In collaboration with UArizona Cooperative Extension and the Southern Arizona Roadrunners, the ZFCPHP kicked off the Wildcat Marathoners (WM) running and walking program in four Pima County elementary schools during Fall 2019. Designed to promote healthy activity options at school, the WM program encourages young students to be physically active during their lunchtime recess by logging miles to reach the distance of a half (13.1 miles) or full marathon (26.2 miles). 
---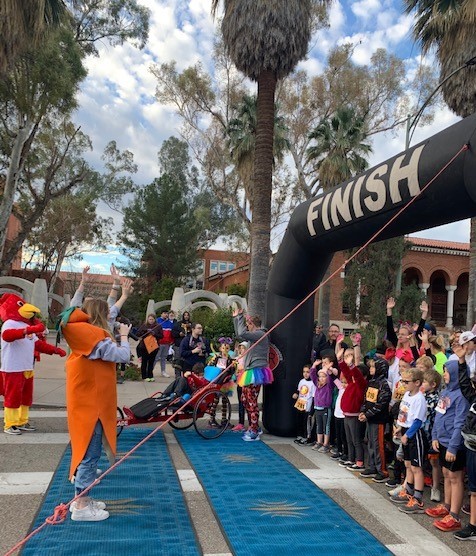 ---
Over 550 students participated in this physical activity initiative in Spring 2020. To celebrate their success, participating WM students were invited to the 1-mile Fun Run on the UArizona Mall on February 9, 2020, hosted by the Southern Arizona Roadrunners. Students who logged at least 12.1 miles during the program received a UArizona superhero cape after finishing their last mile on campus!
---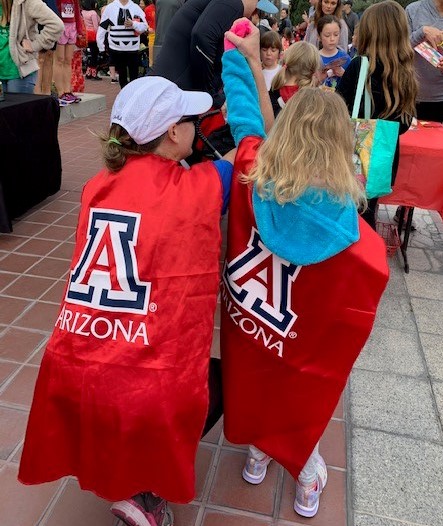 ---
After participating in the WM program, the San Xavier Mission Elementary School hosted their own 1-mile Fun Run on February 25, 2020. All 112 students completed the WM challenge and received UArizona superhero capes to incentivize their success. Through instituting school-level initiatives such as WM, we hope to foster a community of movement and increase physical activity among students, teachers & staff, and administrators. 
The WM program took a hiatus during the COVID-19 pandemic but was reinstated during Fall 2021 with Primavera Foundation's Las Abuelitas After-School Program. 
For more information about Wildcat Marathoners, please contact Sabrina Plattner, Health Educator Sr. (plattner@email.arizona.edu)
---